Kazaplanthe professional 3D home design software that will boost business directly on your website
Request a demo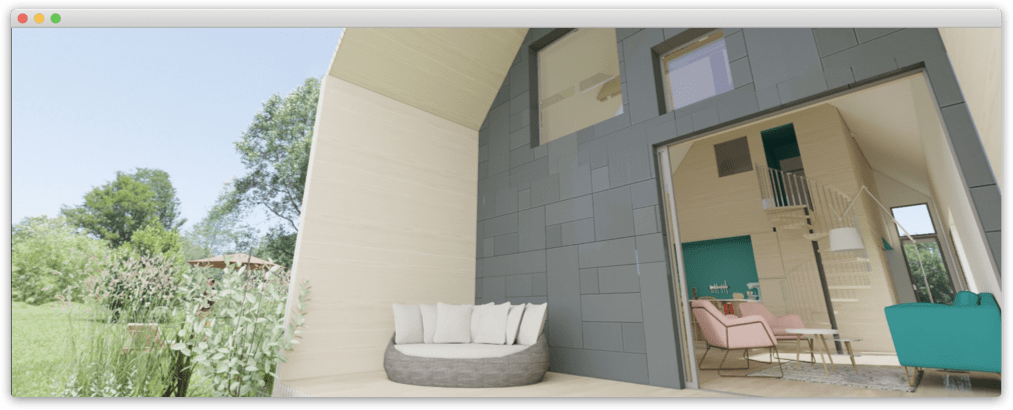 Kazaplan is the professional 3D modeling software which allows you to design houses and apartments with a few easy clicks.
High performance

Fast and with a wide range of features, it allows you to create 3D house plans in no time.

Intuitive

Not just for architects, the software has been designed for all types of user.

100% online

No need to download the software, the plans are accessible on your browser.
Request Kazaplan demo
Individual home builders
Promote your offer, attract clients and help your sales teams sell your properties all thanks to 3D! A new home holds the promise of a new life for home buyers. Put all chances on your side with this carefully-conceived sales tool. Whether you provide individually designed houses or have a catalogue of existing properties, designing plans and blueprints with Kazaplan will be made easier. The perfect blueprint maker for your clients' projects, Kazaplan allows you to design every house model in 3D : allotments, contemporary or traditional designs, flat roofed houses, single-storey houses or wooden ones!
Explore the solution
Furniture and home decoration distributors
Sell your furniture directly on your site thanks to virtual reality. When taking part in an interior design project, your clients need to picture themselves in their future homes and imagine their interior furnished with your products. With Kazaplan they will be able to design their own virtual house and choose the floor plan and layout of each room in their own time. The 3D planner tool will allow them to get a feel of the proportions and textures, as well as the colors of each piece of furniture, light fixture and decorative object. It's as if they were there!
Explore the solution
Material distributors and home improvement stores
Enhance your offer and sell your materials with customized configurators integrated into your site. When taking part in a building or renovation project, your clients must be able to picture the result and estimate the costs involved so they can choose their materials. Attractive visuals will highlight your products. A 2D or 3D configurator that integrates your business rules will allow your client to project, whatever your line of business. With Kazaplan everything is possible: create a 3D kitchen or 3D bathroom, show an electrical diagram or even try out different floor and wall coverings.
Explore the solution
Draw a 2D plan
With our fast and easy-to-use 3D software, a few minutes is all it takes to design the 2D floor plan of a room or the blueprint of a whole house. Start by drawing your walls and partitions with the user-friendly room planner, add more levels and you can then place your doors, windows and staircases, and even trace your attic and under-eave spaces with a few easy clicks.

Say goodbye to complex 3D architecture software reserved for study offices and choose the Kazaplan home design software: a 3D house plan tool designed with everyone in mind.
Want to try the architecture
software?
Request a demo
Furnish and decorate your 3D plan
Conceive the interior design of your home by integrating your own furniture and decorative objects rendered in 3D.
Browse through our ever-growing catalogue and choose from over 2500 3D objects to virtually furnish and decorate the interior and exterior of your house with contemporary furniture, the latest interior design, electric devices and household appliances.
Want to try the 3D interior
design software?
Request a demo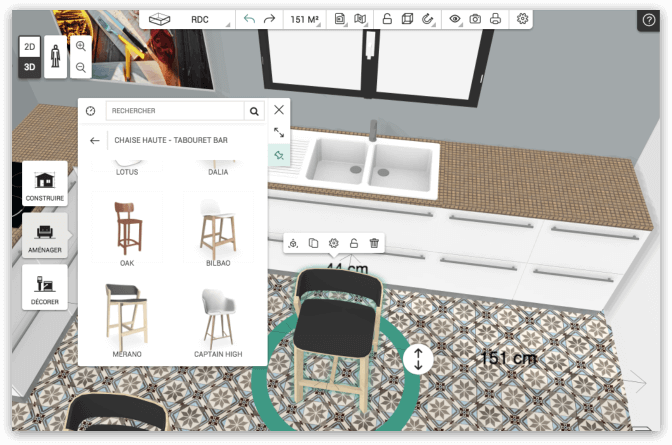 From 3D model to realistic high definition rendering
Within minutes, your client or your collaborator will receive the 3D HD rendering or 360° view of the room in their inbox
360° views
HD image
Once the 3D model complete, a couple of clicks will generate a 3D image so lifelike it looks like a photograph. And then? You can begin the virtual tour of the house and visualize it as if you were actually there. There's no better way
Want to try the 3D
modelling software?
Request a demo
Some lifelike visuals taken from 3D plans designed with the Kazaplan 3D home planner software
Whether your business involves building individual homes, furniture retail or building materials distribution, our 3D modelling software will assist you and fit in perfectly with your professional tools.
The design of 2D and 3D plans, the business configurators, the 3D virtual tour and the high definition visuals will enhance your product offer - all are powerful tools that will set you apart from the competition. Start today and ask for your Kazaplan demo: one of the best 3D home design tools, easy to use and fully online. It was conceived for all professionals working in home building and interior design.
Pricing
Are you a individual user or an interior designer ?
Visit Kozikaza.com where you can find the Kozikaza 3D house planner software available free of charge, as well as a community of individual users involved in home building, renovation and refurbishment projects. Over one million home plans are drawn up every year on Kozikaza.com.
Learn more about Kozikaza