Kazaplan, the 3D architecture softwarefor individual home builders
sell more homes !
Online - Easy to use – Without obligation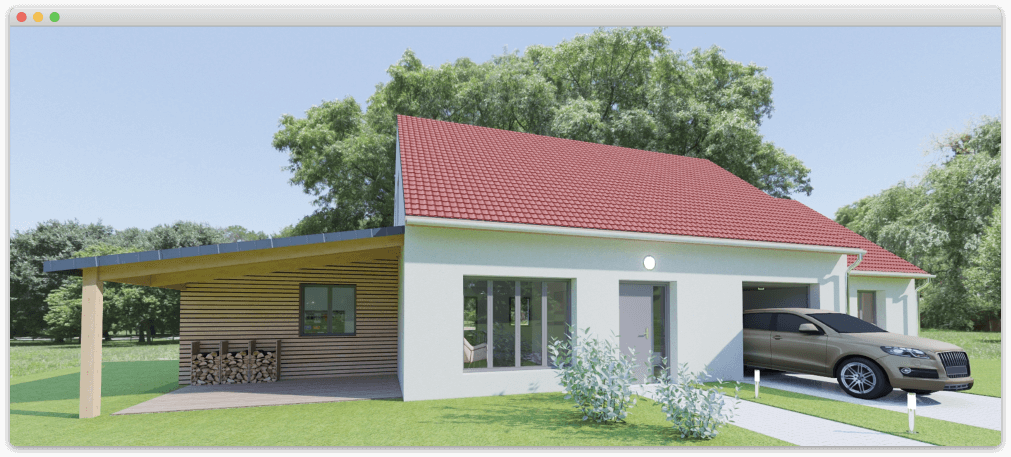 The Kazaplan 3D architectural software will assist you with the sale of your houses at every step of the process thanks to a complete 2D and 3D design solution.
Promote your house catalogue

Offer a sales aid tool to your sales team

Attract more prospective clients that have a home building project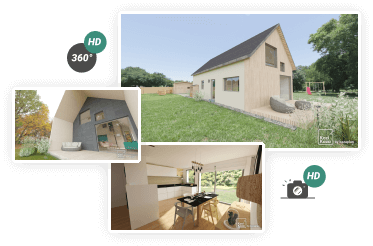 PROMOTE YOUR HOUSES AND INCREASE YOUR SALES CONVERSION RATE !
Present your preliminary drafts to your prospective clients with lifelike 3D images or 360° views.
Show them homes furnished with contemporary furniture and trendy interior design, and then offer them a virtual tour of the house. Each room can be visited, as if your clients were there. All these solutions supplied by our home architecture software will allow you to promote and showcase your projects. High definition 3D images will enhance your homes and the 3D virtual tour will allow potential buyers to picture themselves in their new house.
Want to try the 3D design software ?
Request a demo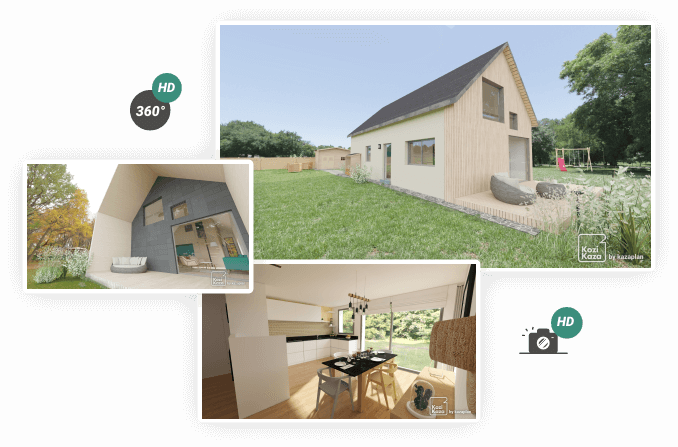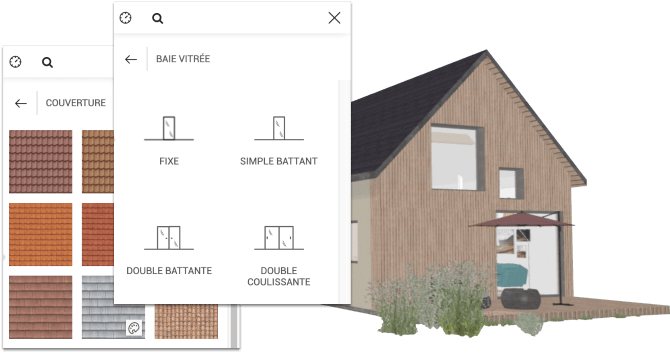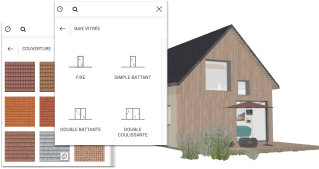 SAVE TIME DURING THE PRELIMINARY DRAFT PHASE
Do you have a home catalogue ?
Make 2D and 3D models of your houses. Then let your sales force adapt the interior and exterior of these models to match the needs of their prospective clients, using our catalogue of 3D objects containing furniture, home decoration and coverings. The tool is now a piece of interior design software.
Do you custom-build houses ?
Unclutter your design office by providing your sales team with easy to use software that enables them to draw a 3D home plan from beginning to end. Once the architectural design complete, they can furnish and decorate the plan in just a few minutes.

An adapted 3D plan allows you to show clients different options and choose quickly between two solutions.
The Kazaplan 3D home building software is the perfect solution to reach your goal of enabling your clients to picture themselves in their new interior with the 3D rendering of their home.
More...
Want to try the house building software ?
Request a demo

COLLECT THE CONTACT DETAILS OF VISITORS' TO YOUR SITE
Unlike other downloadable architecture software such as Cedreo or Miao, your clients can freely use our 3D home building software to fine-tune their designs.
Allow visitors on your site to draw their 3D home plan easily or adapt the ones already in your house catalogue directly on your website, thanks to the many advanced and configurable features.
With the Kazaplan 3D home design software, your prospective clients can personalize the house models on offer: with just a few clicks they can access the interactive floor plans, arrange furniture and fully decorate the interior and exterior of the house. The software then works as an interior design tool. Your sales force now has all the information needed to contact and assist your clients, from their required type of construction and the number of rooms, to their layout and furnishings.
More...
Want to try the 3D building design software
Request a demo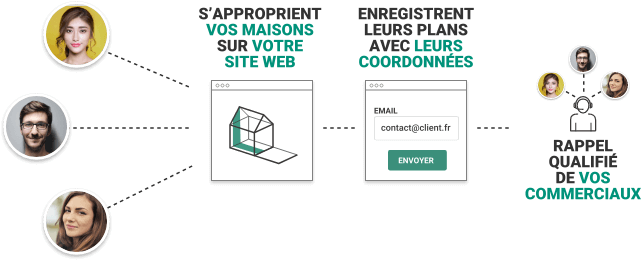 Some photorealistic visuals taken from 3D plans designed with the Kazaplan 3D home planner software
Individual home builders and construction professionals: use our 3D architecture software to increase your sales.
The modeling and visualization of the 2D and 3D house plans, the virtual tour and the photorealistic images will showcase your offer in an innovative way. Set yourself apart from the competition! Ask for your Kazaplan demo today: one of the most advanced 3D design tools, intuitive and with no downloading. It was designed with all construction and building professionals in mind.
Pricing